What is Woocommerce Quantity Manager?
Woocommerce Quantity Manager is a premium plugin that helps you have tighter control over your Woocommerce point of sale by setting minimum and maximum quantity rules when selling products.
With this plugin set your quantity restrictions with ease including clear notification at the point of sale informing the customer of your order policy.
Now, you can avoid messy misalignment between your ecommerce shop and your retail policies with this neat solution.
The product is made by Barn2Plugins, a UK-based WooCommerce plugin development company.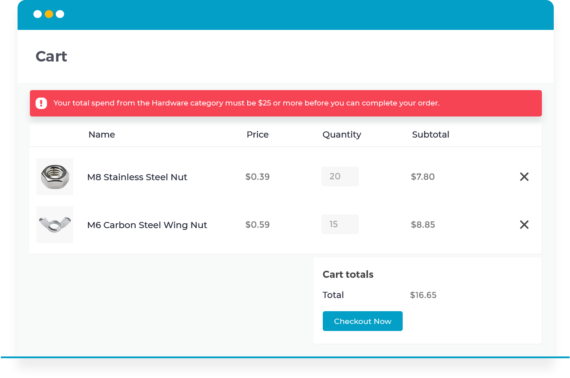 How is WooCommerce Quantity Manager used?
With WooCommerce Quick Checkout you can seamlessly insert quantity related rules and restrictions into the product purchasing process, including:
minimum order quantity
maximum order quantity
custom quantity increments
setting default quantities
granular management of order quantity
So now there is no need for messy workarounds at the critical point of sale.
Set hardwired rules that only present feasible profitable outcomes.
Leave nothing to chance and make buying simple – even with complex quantity stipulations.
Who uses WooCommerce Quantity Manager?
Store owners with peculiar quantity management clauses, or just particular about inventory control…
Dealers and distributors
Wholesalers
Boutique or limited edition stores
Handcrafts
…there are lots of cases where this is a very profitable investment.