What is Woocommerce Quick Checkout?
Woocommerce Quick Checkout is a premium plugin that streamlines your Woocommerce buyer experience by allowing 1-click purchasing, 1-page purchasing and automatic cart quantity updates all on the product page .
This plugin single-handedly removes the unnecessary steps of diverting buyers to the cart or checkout.
The plugin bypasses the final stage purchase URL redirects, reducing friction at the point of sale, allowing the customer to conduct all of their business on the product page.
The product is made by Amplify Plugins by Scott DeLuzio a US-based WordPress developer and plugin company founder.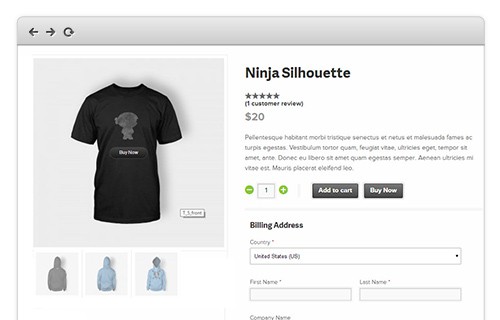 How is WooCommerce Quick Checkout used?
With WooCommerce Quick Checkout you can abbreviate the entire purchase workflow into:
So now there is simply no need to divert customers to the cart or checkout to complete the purchase.
In a neat one-stop shop approach – a customer can: find their ideal product, select their preferred option option, place their order and make payment.
This is a quality advancement toward a frictionless ecommerce flow for Woocommerce users.
With fewer steps to action in buying your products, you should see more customer conversions from day 1 of install.
Who uses WooCommerce Quick Checkout?
Woocommerce vendors with a critical eye on making the point of sale simpler for the customer…
Membership sites
Computer hardware retailers
Online wholesalers
Software vendors
…in most use cases this plugin presents instant wins.