What is WooCommerce Wholesale Pro?
WooCommerce Wholesale Pro is a premium plugin that gives you the ability to effortlessly offer wholesale product ordering on your WooCommerce store in the addictive form of a simple checklist.
Get your customers to literally click their way through their order in moments: selecting item quantity, customising product options, adding multiple products to cart and go…
The product is made by Barn2Plugins, a UK-based WooCommerce plugin development company.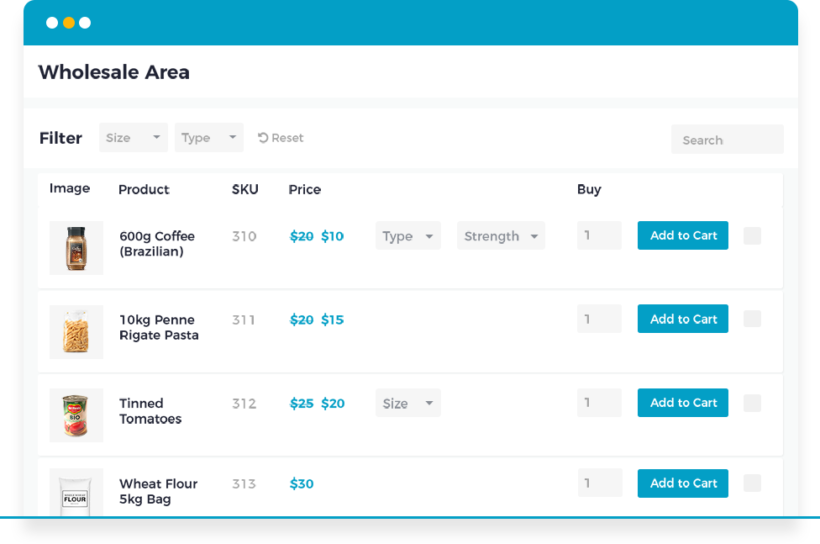 How is WooCommerce Wholesale Pro?
With WooCommerce Wholesale Pro wholesale products are presented in tabular format with:
a checkbox
quantity drop down box and;
'Add to cart' button
other product variation options incl. size, colour etc. (where applicable)
…for each item.
Customers simply, scroll through a brochure style listing of products – compile their wholesale order all within a single page and head straight to the cart.
It's probably the most intuitive wholesale interface and sales experience that I've seen yet for WooCommerce.
Who uses WooCommerce Wholesale Pro?
Pretty much just anyone in wholesale…
Coffee
Clothing
Shoes
Electrical components
…no limits.
Here are a quick review:
"Wholesale is now a reality for our retailers. Wholesale Pro is the solution for wholesale – no question. Looks great. Works great. So easy to use. Our retailers love it because it makes ordering so much easier for them. If I could give 10 stars, I would!"
– John Garrett (quoted from the vendor's site)